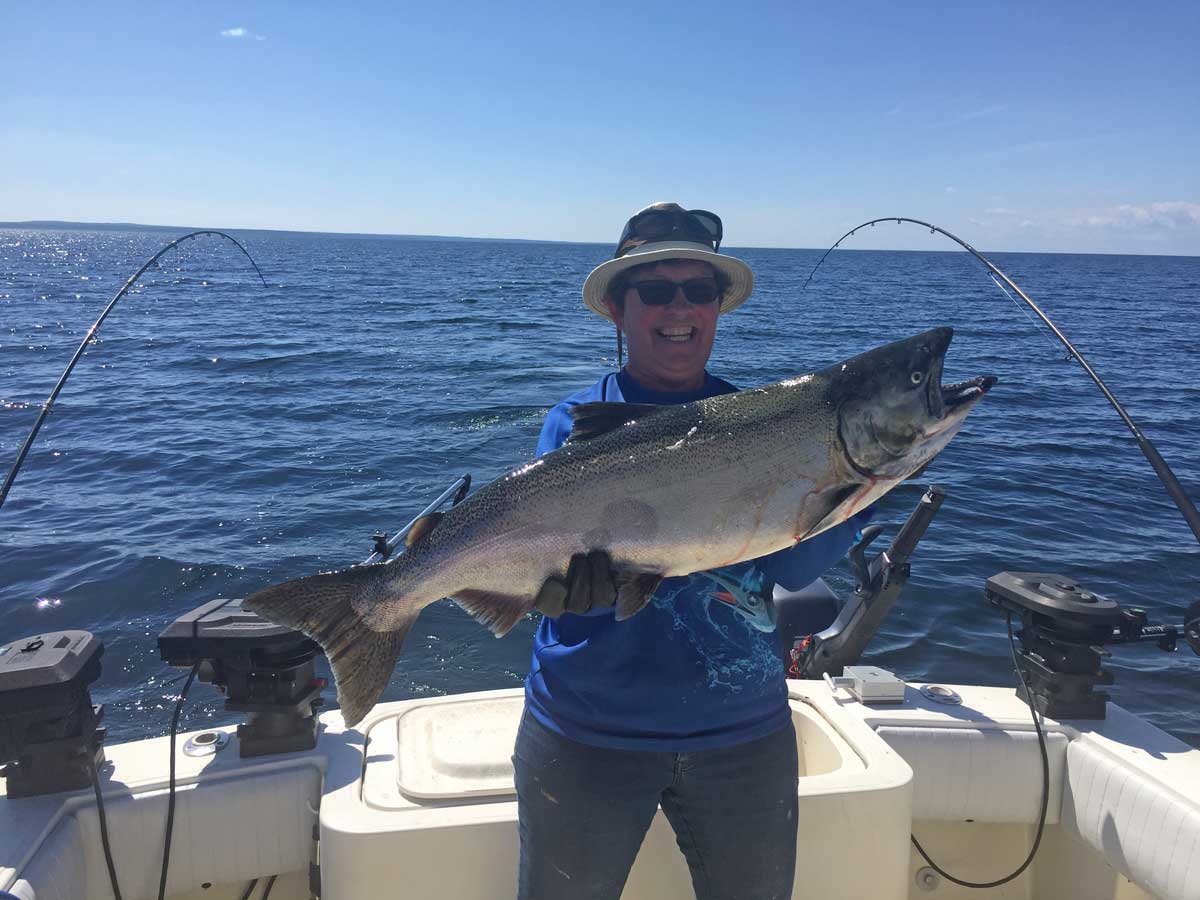 Image – Louise Spencer got Meldrum Bay on the board with this solid 15.20 lb chinook.
Welcome back to all the salmon and trout anglers.
This year's MESC looks to be a great one with lots of alewives and smelt making their return to our waters. Some massive fish have been caught pre-classic with 3 that I have seen pictures of toping 30lbs, not to mention several 27-30's. This bodes well for our fishery. Look for a 30+lber this year to be the winning fish.
It has been a terrible start to the classic, weather wise. The blow looks to continue tomorrow and then it looks pretty good for several days and through the weekend. Despite the weather several nice fish have been caught with a 21.87lb chinook taken by Moe Gauthier leading the way. Several familiar names are already on the board with Jesse Cundari joining the top 5 this morning after he weighed in a respectable 19.47lb salmon.
If you have not noticed already, we have changed the way we weigh in and register your fish. Every weigh station is now equipped with a computer system. The computer upgrades and some tweaks that I have made to the fishmanitoulin.com website have now allowed MESC to be updated in real-time. As soon as you weigh in a fish it appears on the leaderboard. We have done this to enable anglers to check in real-time what the weight of the day is or if the fish is worth keeping. It also gives me a break as I am not putting up results till 2 am.
Being fully computerized also enables me to check immediately the ticket, purchase date, ticket owner etc. I have all the information available to me instantly and should really help cut down on any discrepancies.
Also new this year the lads at Moxy's Bait and Tackle in Lively are giving away a nice downrigger rod and reel to a lucky angler every week. It is simple to enter, just post a picture of your fish to Instagram. Tag @moxybait and #fishmanitoulin to enter. Moxy's will pick the winner every week and you can pick up the prize right from their store. I am really looking forward to seeing all the pictures. Get snapping (photos, not lines)!
On to the fishing. The salmon are still scattered, with nice fish being caught both deep and shallow. Pre-classic I did very well on warrior green alewife. Keep in mind right now we have small bait, the alewife in the salmon are 2-3" for the most part so choose your lure accordingly. A few big fish have been taken deep, 90-110' otb in 135-150' fow. That said in the week leading up to the classic I was having good success in the shallows early in the morning. 40 over 55 was my sweet spot. Once 8am rolls around it was time to head out. Once the fishing settles into a pattern and the weather cooperates, I will have more information to share.
Tight Line
Dave