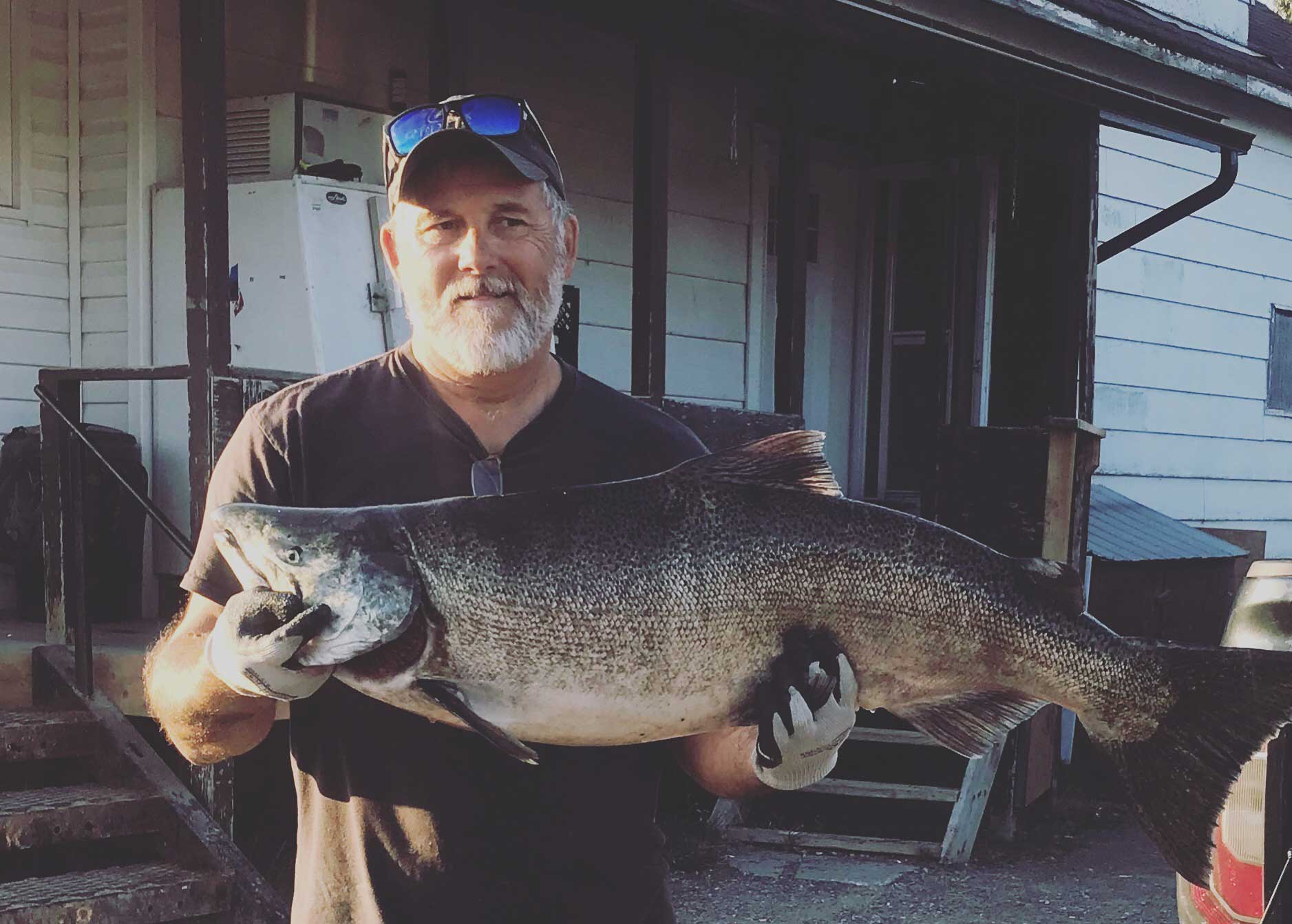 Two weeks in and two weeks to go it is time to get serious, the warmup is over.
The fish have started to move towards the bays and big salmon continue to appear everyday. As of the time writing this post you need pretty much 25 lbs to make the top 5 and a 20 lber will not even crack the top 10. How things have changed. It is sure apparent what the return of bait can do to this fishery.
I want to give a shout out to Meldrum Bay anglers. After some very lean years they are starting to catch some beauties. With nowhere near the anglers as on the south shore they are consistently bringing in solid fish. Todd McLeod currently sits in 4th place with his 25.51lb chinook and there have been a few Fish of the Day taken there. Would I be surprised to see more big fish over the last two weeks come out of Meldrum with so few anglers? Not in the least, they are the dark horse and with that big water who knows what lurks out in the straits.
Is it time to switch to plugs? Maybe a week or so early but I do know that a few 20lb+ salmon have been taken in the past week on Lyman's trolling in 40-50 fow and 30-35 down. While the salmon are still actively feeding try a plug that represents bait in its colour profile. Switch to you bright colour plugs, the last few days of the classic, once they turn off food and are striking out of aggression. Either way, it is always worth a shot as the sun goes down or as it rises to switch to a plug and see what is about.
After that big weekend blow the water has drastically changed in temperature. The cold water that we now have will likely drive those first run salmon in even closer to shore and will make the finally two weeks of the classic a wild one. This weekend looks to have a return of the winds on Saturday, hopefully that changes. Be safe out there, don't risk your life for a fish.
As the anglers' head towards the bays and shorelines I want to remind people that it is going to get busy out there. Don't cut people off, courtesy goes a long way and any conduct that is counter to that will not be tolerated. I am going to be on the water a lot in the next few weeks, I will be watching. I have a very low tolerance level for poor conduct, be warned.
Tight lines
Dave