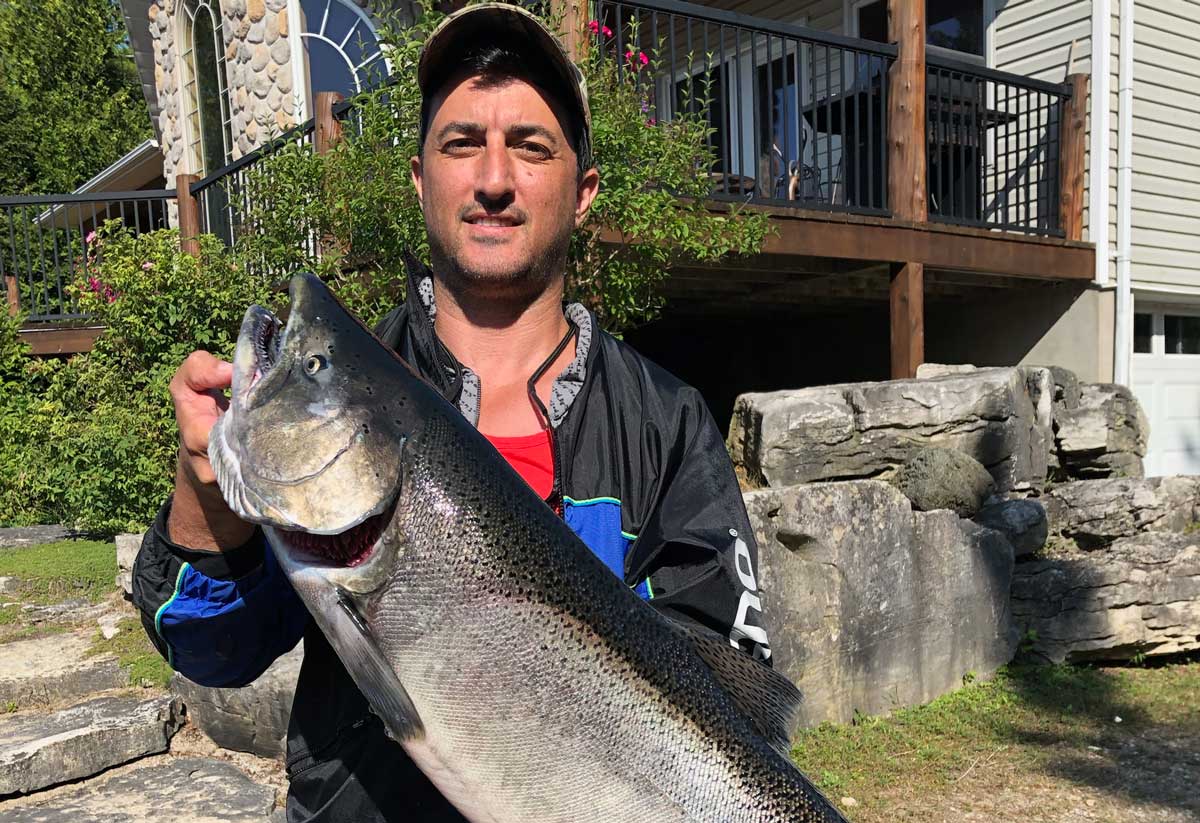 Indulge me for a few minutes while I tell a little story. Five years ago, in the middle of June I was doing my regular thing in Michaels Bay, looking for a big steelhead off the rocks. I got skunked on the steelies but I did catch something interesting, I snagged an alewife. As I travelled through the passage I noticed schools of the baitfish. I stopped to watch the schools swim by and marvelled as these were the first I had seen in years. It was a great sign of things to come.
Jump forward three months and I was doing my usual walk down the Manitou River and low and behold the river was absolutely stuffed with nice sized salmon. Nothing spectacular but literally hundreds of 12-15lbers. The idea of the Manitoulin Expositor Salmon Classic was born on this day and this year's run of fish are a direct result of those same fish I saw in the river.
When I first announced the Classic I had unbelievable backlash. It will never work, we have no fish, we have no bait, Lake Huron is dead. A few people and I that have fished the south shore for years, even though the lean years knew better.
I hate to say I told you so, but … who am I kidding, I love saying it!!!
On to the fishing report. We still have roughly 2.5 weeks left and already you need 22.21lb + just to crack the top 5. I think it is a fair guess that you most likely will need 30lb + to win it this year.
My time will now be spent out of Michaels Bay. I have seen early morning fish already in the bay and soon enough they will be just out front on a daily basis. The same holds true for Providence Bay. Several salmon have been taken that have already started to turn dark, that means one thing, it is game on!
Dark colours are doing very well in both the South Shore and the North Channel with Michael Jackson, Cop Cruiser and black and white Moonshines standing out. The fish seem to be around the 65-75' otb mark but as everyone knows that can change overnight.
Give the shallows a try early in the morning (just before the sunrises), have a look at 40-60 fow and troll long leads off the ball. I have always had great success with this and right now is the perfect time to get a marauding chinook in close having a look around.
I am still running into people that are having a tough time catching fish so here are some basic beginner pointers. I want to see everyone catch some fish, for me nothing compares to boating a salmon.
Troll at 2.5 mph, this is a good starting point and don't be afraid to dial the speed back. I start at 2.5 but often change pace down to 2.0 and then back up to 2.5.
Set your lead of the ball at 45ft. If you are running high, 30ft down or higher bring your lead out to 100ft. Our water is very clear, and the salmon will spook at the boat going over.
Start off with a darker coloured lure. Black can be seen through the entire water column.
Talk to your fellow anglers and tackle stores for advice, ask the people what lure is hot and what is selling the most. Generally, anglers are not going to tell you their secret lure, but you can get a general idea of what is going on.
Good luck out there and tight lines.
Dave