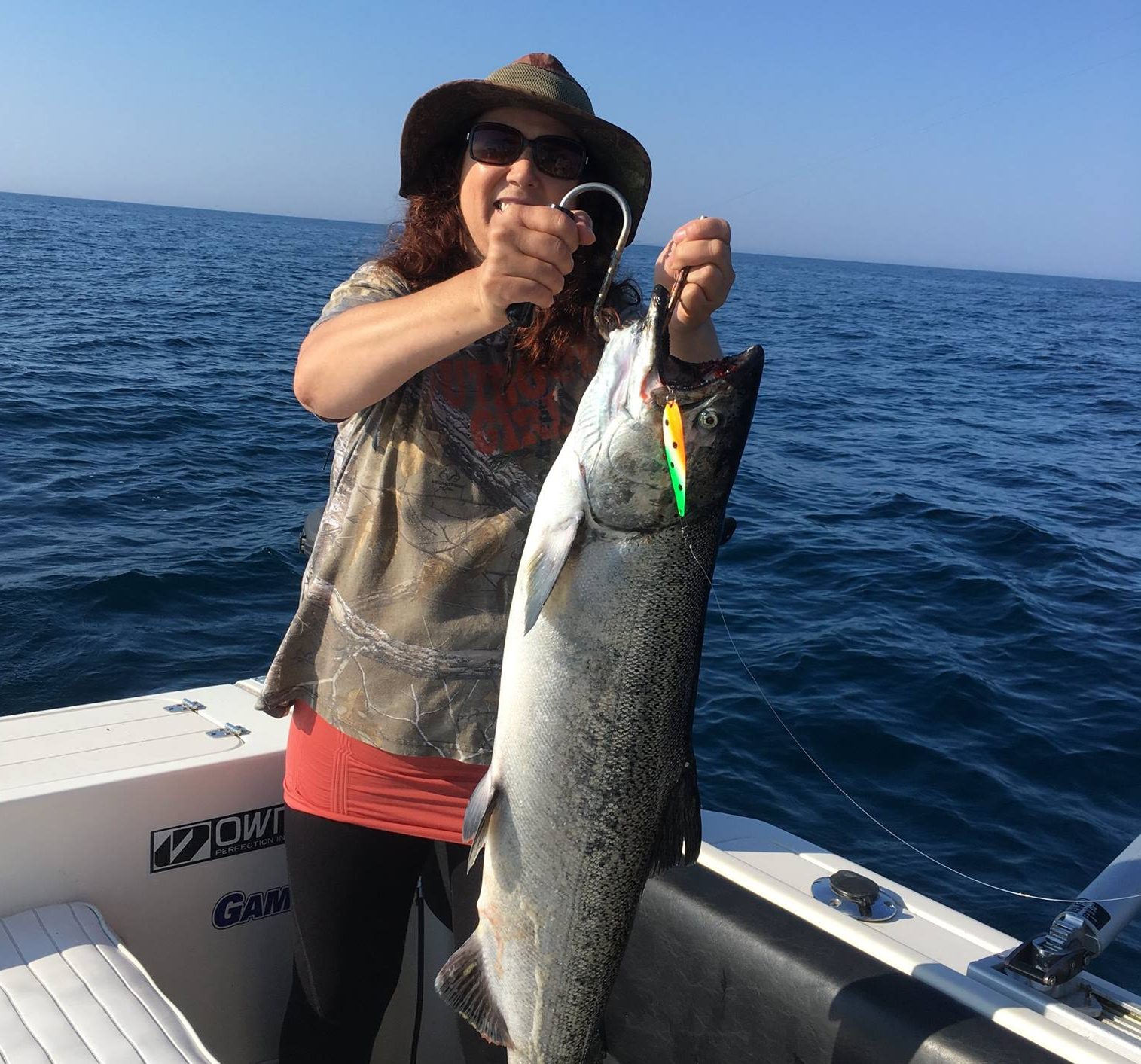 OFFICIAL RULES AND REGULATIONS
CONCERNING THE MANITOULIN EXPOSITOR SALMON CLASSIC 2021
1 –The Manitoulin Expositor Salmon Classic 2021 (M.E.S.C. 2021) will span from 12:01 am Saturday, July 31, 2021, to 12 noon on Sunday, August 15, 2021.
2 –Anglers who are participating in the M.E.S.C. 2021 are limited to fishing within the territorial waters of Manitoulin Island and its adjacent, surrounding islands. Territorial waters in this instance is defined as
Northeast – Western tip of Phillip Edward Island;
Southeast – Southeastern tip of Fitzwilliam Island;
Southwest – Southwestern tip of Cockburn Island;
Northwest – The mouth of the Mississagi River;
North – The North Channel up to and including the North Shore;
South – Great Duck Island and/or 15kms from Manitoulin Island
Manitoulin Island streams, rivers, and inland lakes are also included in the area able to be fished for the purpose of participation in the M.E.S.C. 2021.
3 –To enter and participate in the M.E.S.C. 2021 A registration ticket must be purchased at a cost of $65. Tickets may be purchased through the website, www.fishmanitoulin.com, or in person in Little Current or Gore Bay at The Manitoulin Expositor office and at other select outlets. Tickets purchased during M.E.S.C. 2021 are not valid on the day of purchase, a M.E.S.C. 2021 registration ticket becomes valid the day after it is purchased, with the exception of anglers on a charter boat. Charter boat anglers may be offered a ticket at the dock before embarking on the charter. Registered participants in M.E.S.C. 2021 fishing from boats must be able to guarantee that all other anglers fishing from their boat, regardless of age, are entered in M.E.S.C. 2021 and be eligible to enter fish in M.E.S.C. 2021.
4 – Success in the M.E.S.C. 2021 is defined as being achieved when an angler; is fishing with a valid Ontario fishing licence, if required to hold one holds a valid M.E.S.C. 2021 registration ticket is abiding by the Regulations of the Fish and Wildlife Conservation Act, the Fisheries Act, The Department of Transport "Small Boat Safety Regulations," and the Rules and Regulations of the Manitoulin Expositor Salmon Classic 2021is abiding by the Invasive Species Act in accordance with the rules and regulations as found in the Ontario Fishing Regulation and Rules Summary. We sincerely hope everyone feels gratified by spending time on or by the waters of our beautiful Manitoulin Island. The organizers of the M.E.S.C. 2021 will consider this as our success.
5 – Prize Structure for the M.E.S.C. 2021
Top three (3) heaviest salmon split 70 percent of the ticket sales.
First (1st) Place – 40 percent of ticket sales
Second (2nd) Place – 20 percent of ticket sales
Third (3rd) Place – 10 percent of ticket sales
Prize payout scenarios
500 tickets sold
500 x $65=$32,500
1st = $32,500×40%=$13,000
2nd = $32,500×20%=$6,500
3rd = $32,500×10%=$3,250
600 tickets sold
600 x $65=$39,000
1st = $39,000x40%=$15,600
2nd = $39,000x20%=$7,800
3rd = $$39,000x10%=$3,900
700 tickets sold
700 x $65=$45,500
1st = $45,500x40%=$18,200
2nd = $45,500x20%=$9,100
3rd = $45,500x10%=$4,550
In the event of a tie, prizes in question will be awarded on the basis of the earliest fish entered. There may be other prizes awarded at any other time determined by the M.E.S.C. 2021.
6 – Terms of understanding for collecting a prize in the M.E.S.C. 2021. All participants agree, upon winning a major prize, that they will if requested submit to validity tests and sign an affidavit confirming the fact that their fish was caught within the rules of the contest. Participants agree that the organizers may, at their discretion, hold any fish for biological examination and testing. Therefore, any related prizes will not be released until such testing is completed. Any participant guilty of an infraction of the rules will be disqualified from the contest, banned from all future M.E.S.C. events, and any prizes will be forfeited.
Prizes not picked up by October 31, 2021, will become the property of M.E.S.C.
7 – Entering your fish All fish must be weighed at an official M.E.S.C. 2021 weigh-in station by the attendant of that station. During the course of the M.E.S.C. 2021 a leaderboard will be maintained and updated when new prize-winning weights are recorded at the weigh-in stations. Because the leading weights are readily available the organizers of M.E.S.C. 2021 would like to encourage the practice of catch and release for fish that would not be in contention for a prize. The waters surrounding Manitoulin and the islands provide the angler with clean water and edible game fish. Any angler found guilty of wasting his catch will be disqualified from the M.E.S.C. 2021 and banned from all future M.E.S.C. events. Any angler disqualified for this reason will have all prizes forfeited. A fish may be entered only once. Only fish that have been caught within the last 12 hours and are whole may be entered. Fish with a snag, foul hook, gill net marks, even if taken legitimately by the participant, will not be accepted; nor will fish that have been frozen or are badly deteriorated, washed out and have been dead for a long period of time. Masks must be worn at all times by the angler and social distancing adhered to during the weighing of a fish. Failure to do so will result in the fish not being weighed.
8 – Also to consider Each participant in the M.E.S.C. 2021 agrees that the decisions of the officials of the M.E.S.C. 2021 are to be final in all matters concerning M.E.S.C. 2021. Each participant in the M.E.S.C. 2021 agrees to hold the sponsors, organizers, officials, their agents and employees harmless from any liability of any nature and kind, any injuries and/or damages suffered during or after the period of the M.E.S.C. 2021 by the participant.
9 – Weigh Stations for the M.E.S.C. 2021 will be located at 5136 Hwy 551 across from the Providence Bay Fair Grounds and The South Baymouth Marina. The hours will be 9:00 am to 12:00 noon and 6:00 pm to 9:00 pm daily. There will be NO after hours weigh-ins.