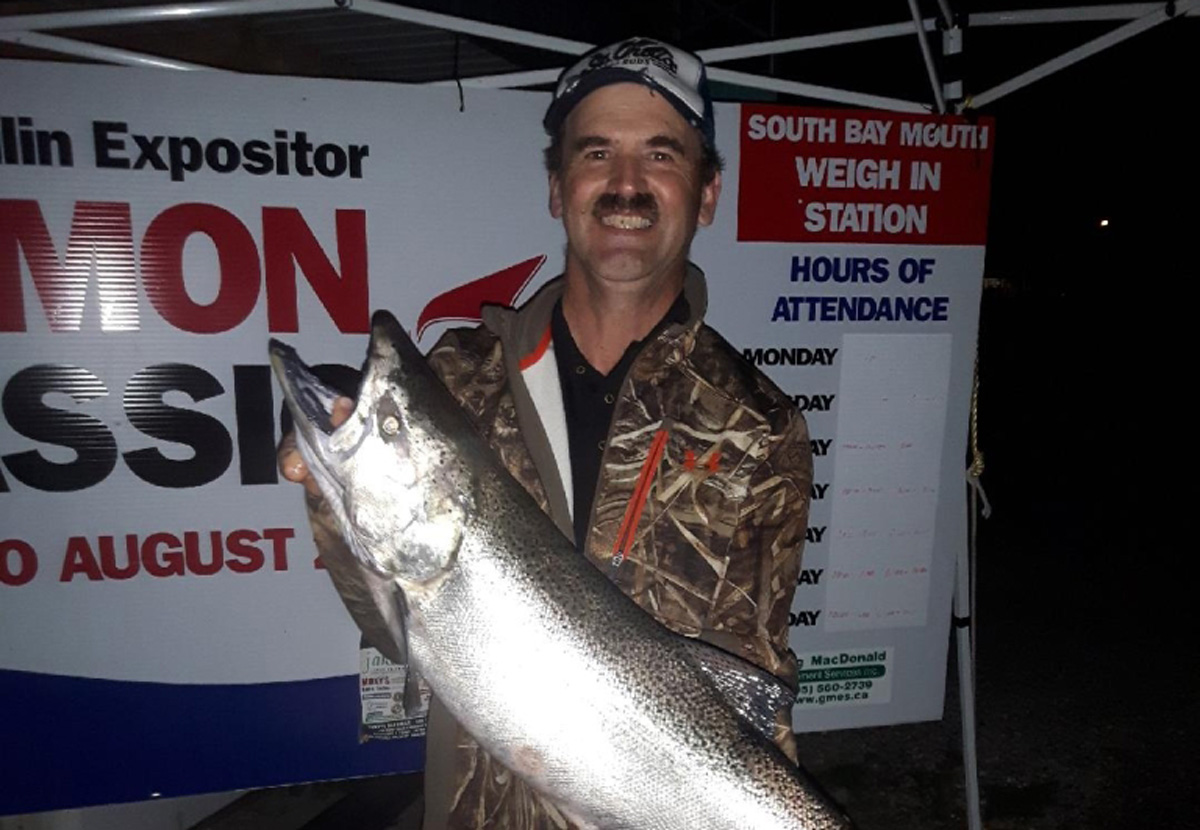 After five or so days of the salmon disappearing they have arrived back on the south shore with a vengeance. Last night the fish weigh ins lite up with some very solid salmon being caught. Dave (Woody) Woodford lead the way with his second 25lb salmon of the classic.
I had reports from 2 separate anglers about the one that got away last night. One was fought for well over an hour and was said to be easily over 30lbs. The angler, who I can vouch for as being as straight as an arrow, has caught thousands of salmon in his life, on both Lake O and here and stated that it was a fish like he had never had on before. He asks that anyone catching a salmon with a chicken wing in its mouth to please return the lure. A small donation from the first prize would also be excepted, "Well I tired the big bugger out for them, it is the least they could do!"
The salmon appearing once again on the south shore will throw a wrench into the spending plans of the current top 5. I really don't think anyone is safe.
The North Channel has gone quiet as well and as of typing this report I have not had reports that the salmon have livened back up there as of yet. We still have lots of boats out, but the fish don't seem to be cooperating.
On the south shore the fish are anywhere from 20-50' down and they seem to be aggressive. Anglers are reporting good bites on plugs, with white based Lyman's seeming to be the popular choice. Others are having luck by switching to magnum sized spoons, chicken wing, green alewife and purple alewife seem to be the popular models.
A note to everyone fishing out of Meldrum Bay. I have reports of commercial nets just outside of the marina. Be careful and steer clear please.
With all the boat traffic on the south shore please be courteous to other anglers. I have several reports of anglers being less than sportsmanlike. Don't let me catch you doing this, you will not get a warning, you will instead get a ban from the salmon classic and all future salmon classics.
The wrap up event this takes place at John Budd Park in South Baymouth, just as years past. It starts at 2pm on Sunday, August 25. We will have a fundraiser BBQ and there will be door prizes.