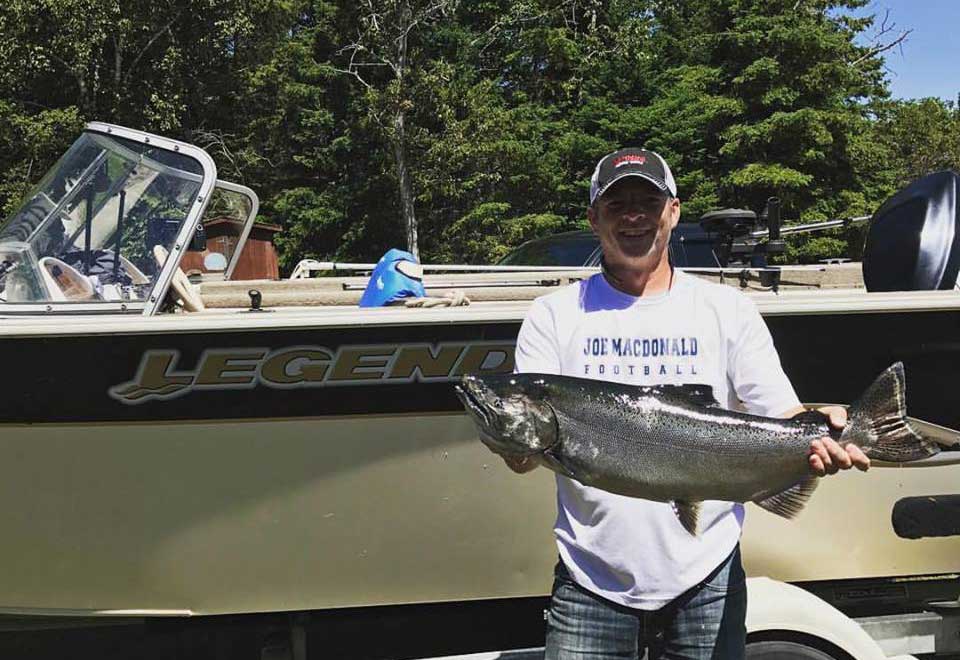 Day one is in the books and it seems some things never change. Kevin Boyd, who controlled the leaderboard last year for nearly two weeks is once again at the top of the salmon top 25. This time though Kevin I can assure you that you will have to catch a bigger salmon to stay there.
Kevin Boyd took his fish off Providence Bay in 126′ of water 85 down. The lure was a Warrior Dr Death. A big tip of the hat to Kevin for sharing this information. I love passing this stuff on, i want to see everyone catch fish.
On the subject of nice fish, it looks like Art Deyell takes home the first money of the year. Art caught a very nice 17.16lb Lake Trout off South Bay this morning. Congratulations Art!
On the topic of handing out money and the leaderboard, please be aware that I am pretty much the only person updating this so please be patient. The winners are subject to change as I might not have all the weigh stations forms every night. There is a chance that the daily winner may change from time to time once all the forms are processed.
For those that have not noticed, we have a whole new Leaderboard setup. All fish weighed in will be listed and you can search fish by size, location, etc. This should make things a bit more interesting and all fisherman can track their catch.
My fishing today was pretty terrible. I launched in South Baymouth and headed out late. I fished for about 3 hours and had minimal action. I lost one small salmon right near the boat, it would have been maybe 5-6 pounds. About 3 mins later I landed a smallish 6.23lb greaseball. Both fish were taken on a Warrior Purple Alewife 75′ down in 167′ of water. Tomorrow morning you will find me trolling Michael's Bay bright and early.
A quick note about weigh-in station hours. All scales are open until 8 pm every day with the exception of Providence bay that is open until 9 pm (thank, Gary). If you want to weigh in after these hours you have two choices, put the fish on ice or call me at 705-968-0237, I have a set of scales as well and I am located in Little Current. If you call me after midnight it had better be a 25+ pounder! I would love to have the scales open later but at this time it is not doable.
Once again, please send in your pictures to info@fishmanitoulin.com. Everyone loves to see them, especially me.
Keep your lines tight,
Dave