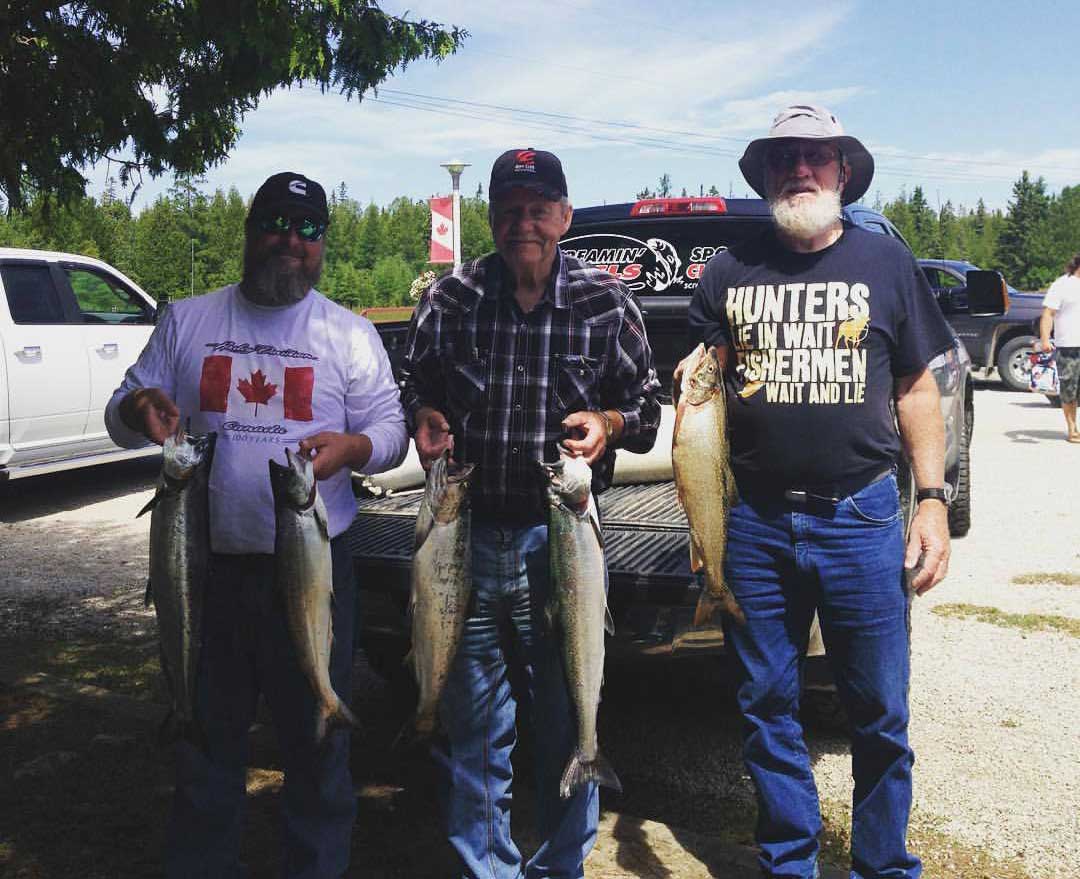 The first weekend is in the books, and we have weighed in over 60 fish! The North Channel leads the way with 4 of the top 5 salmon coming from her waters. Brady Dearing's 16.44 lb beauty, which is the daily winner and tops the salmon leaderboard, was caught off Gore Bay and weighed in at South Baymouth.
I was in South Baymouth today when Brady brought in the fish. It was caught 40′ down, I did not catch the overall water depth.
The wind was pretty bad today, and it limited the time on the water for many. One positive with this westerly wind, it is changing the water temperature for the better. On the south shore 40-50′ down will find you temperature where as a week ago it was 110-120′. The wind looks good for this week up until Friday when a significant weather change looks to be coming in. There are many weather apps out there my choice is windfinder.com. I find it very accurate, the only issue I have with it is the lack of wind stations on Huron.
I was talking to Moe from Screamin Reels Charters today at the fish cleaning station. He brought in some excellent salmon (none of his customers had derby tickets) that he caught towards Michaels Bay. I had every intention of fishing Michaels myself today, but I slept in until 6 am, and by then it was too late.
A reminder, every time you weigh-in a fish you will receive a weigh-in slip. Bring your slips to The Manitoulin Expositor Office in Little Current to redeem your weigh-in slip for a FREE salmon spoon. The spoons are courtesy of Jack Hicks of Osprey Lures in Providence Bay. Jack donated over 600 lures. If you have never used one of his lures you are missing out, they are rock solid and have taken plenty of salmon for me. We have limited quantities; it is first come first serve.
Please send in your pictures to info@fishmanitoulin.com. Everyone loves to see them, especially me.
Keep your lines tight,
Dave